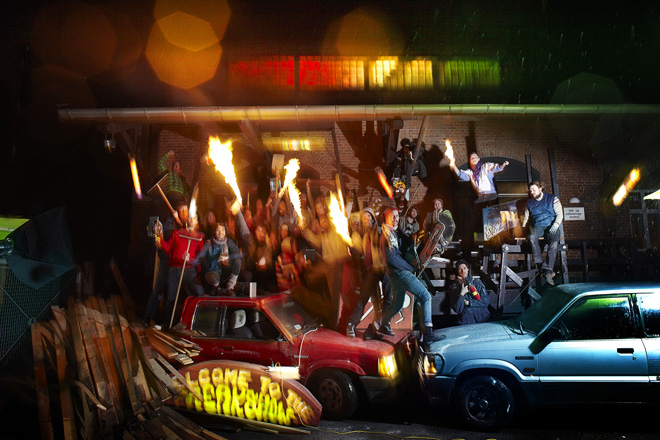 ABOUT
Bureau Detours is a creative organization with great interest in creating social environments in public spaces.They operate on various platforms in a mix of art, design, architecture and cityplanning. The key is, inspiring young and old to relate and bond with their city and neighborhood.
A diverse mix of disciplines like designers, craftsmen, architects and visual artists work together to solve the task ahead. Bureau Detours' unique mix of disciplines, have created changes and surprises since 2006. Out of all these experiences a philosophy was created to construct urban studies and present design methods in scale 1:1 in the public space.
The bureau is mainly based in Denmark, it is however organized in small cells located in different European cities: Aarhus, Copenhagen and Kolding in Denmark, Oslo in Norway, Bordeaux in France and Rotterdam in The Netherlands. With every project in a new city, Bureau Detours aim to create a local department that will provide insight to the city, and will become their future allies.
WORKSHOPS
DENNIS DESIGN CENTER — Hands Up Hong Kong
DENNIS Design Center exported the concept of the local Street Party (Vejfesten) from Denmark to Hong Kong. DENNIS organized and held a workshop together with MaD School with the title: "Hands UP! – Urban Pioneering and How to Make a Street Party!" with 40 locals from all over Hong Kong. Hong Kong, October 2013
byLAB
Bureau Detours made a three day workshop in Viborg, educating teenagers to become Urban Space Designers. The teenagers had to explore their town and design and build solutions.
THE WAVE
In close cooperation with teenage girls in Hillerød, Bureau Detours designed and build a handcart with the name The Wave. The Wave is designed for the girls need to have a mobile sitting area that can be moved by handcraft to both quiet surroundings or festive events. In the cart is both space for storing cushions, blankets, umbrellas and sound system. Det Aktive Byrum, Hillerød, DK May – june 2013
DENNIS DESIGN CENTER — AKUT DESIGN
From the office / workshop we treated visitors with new design-diagnosis each day, focusing on a specific needs: "White cube syndrome", the urge to "tinker" with art, teaching cultural first aid – like the D.E.Y. (Do Exotic Yourself) method – and basic anarchy for everyday use. Riktsutstallningar,  Visby, Gotland, SE, December 2012
Crazy Cake workshop
Hong Kong University, CN, 2013
Lokaleoprustning /
How to prep a room for and with young kids in 1 day
Ongoing 1-day workshops, DK, 2012 -13
Crazy Cake workshop
Vejle Design & Kunstskole, Vejle, DK, 2012
Crazy Cake workshop
Art & Technology, Aalborg University, Aalborg, DK, 2012
Utzopia
Building, planning and pr around a project, teaching workshop for Art & Technology, Aalborg University, Aalborg, DK, 2012
ÆØAA — AN ISLAND IN AARHUS
Workshop with kids from the islands around Jutland, Aarhus, DK, October 2012
SAMVÆRK
Ten school classes each collaborating with an artist and Bureau Detours had to design the physical environment for art viewing. Copenhagen Kids, children and arts festival Samværk, Copenhagen, DK August – september 2012
MOON SCHOOL
Inspired by Tintin's Destination Moon, we developed a plan and history of the rear end of Bispehavens playground. The objective was to involve children and young in the process of transforming their local area. Bispehaven, Aarhus, June 2012
GULDBERGSPLADS
Through democratic city-planning, we figured it was best to land in the center of the area. Instead of hiding in white-framed office spaces within the castle of academic superiority. The locals had direct influence on what was happening throughout the week. Skab Din By, Copenhagen, DK, june 2012
TERASSO PARADISO
a week long workshop for the students of Borups Design School. The aim was to transform their grey and dull roof terrace to a chill-out paradise. Borup Design School, Copenhagen, DK, March 2012
COVER UP
Cover Up aimed to transform the square, and make people interact in new ways. The workshops "design your trash" and "sound of trash" both turned to the streets in the end, where the local people experienced public space from a different perspective.
Live Art festival, Torshavn, FO, October 2011
OPEN CANVAS PORTAL
Platform 4, the university of Aalborg, Aalborg, DK May 2011
ROSENHØJ ER JERES
Housing association OA, Rosenhøj, Aarhus, DK March – May 2011
Creativity in the Workplace
A series of workshops for the Public Community Service, Park & Vej, Frederikshavn Municipality, Frederikshavn, DK, 2010
CYKELKÆLDER FOR X
Nørre-Snede School, Nørre-Snede, DK October 2010
MELLEMRUM
Town development, Nørre-Snede, DK September – December 2010
38. TIME
Frederikshavn Municipality, Skagen, DK June 2010
TRACKING DESIGN
The Scandinavian Design College, Randers, DK April 2010
HANGLOOSE CRYPT
Town development, Nørre Snede, DK December 2009
DESERT STRIKE
Fredericia C, Town development, Fredericia, DK August 2009
NO MORE MODELS
The Scandinavian Design College, Randers, DK April 2008
LECTURES

Talk at Metropolis Laboratory, Copenhagen, DK, 2014
'The Hometown Ambassadors' Tønder Kommune, Tønder, DK, 2013
'BUREAU DETOURS & INSTITUT FOR (X) — Permanent Temporariness' Pakhus 64, Aarhus, DK, 2013
"DENNIS Design Center – Hands Up Hong Kong" Hong Kong University, Hong Kong, PRC, 2013
Salon Service nr 11, Kolding Hus, DK, 2013
A talk at the conference "Design MED børn", Spinderihallerne, Vejle, DK, 2012
"Design activism or Batmans cave and the Troyan horses" Danish Architect Association, Kunsten, Aalborg, DK, 2012
"Co-ownership at work" Talk at KomDag '12, Kommunikationsforeningen, Copenhagen, DK, 2012
"Bureau Detours methods and philosophies" Art & Technology, Aalborg University, DK, 2012
"DENNIS Design Center" Swedish Exhibition Agency, Intensivdagarna '12, Visby, Gotland, Sweden, 2012
"Co-ownership and creACTion at work" Talk at KomDag '12, Kommunikationsforeningen, Copenhagen, DK, 2012
"Bureau Detours methods and philosophies" Art &Technology, Aalborg University, DK, 2012
"Shit, we forgot Tøyen!"
 Presentation and panel discussion on temporariness and the possibilities and challenges within public space. At Skulptuarena öst as part of Kulturnatt (the Annual Night of Culture), Oslo, NO, 2011
"Trojan horses, my little ponies and other interactions in public space" 
Talk at The Aarhus School of Architecture, Aarhus, DK, 2011
"Institute of (X) – navigating around the bureaucracy"
 Presentation/lecture under the Think Space Conference, a conference on empty buildings, urban development and user involvement – arranged by Givrum.nu, København, DK
, 2011
"Trojan horses and other interactions in public space"
 Presentation and lecture at Yonsei Index Design summer school, Seoul, KR, 2011″Trojan horses and other interactions in public space"
 Presentation and lecture at The Architecture Association North-Norway as part of the programme of "The year of Architecture" in Norway, Tromsø, NO, 2011

"The method of Bureau Detours" 
Lecture and mini-workshop at the Tromsø Art Academy as part of the programme of "The year of Architecture" in Norway, Tromsø, NO, 2011

Pecha Kucha Night # 11 Tromsø
. Presentation as part of the programme of "The year of Architecture" in Norway, Tromsø, NO, 2011

"Disturbances in public space"
 Presentation at The January conference, Danish Adult Education Association, Horsens, DK, 2011

"Temporariness in public space" 
Participant and presenter at the City conference on the temporary use of public space, Odense Municipality, Odense, DK
, 2010

"Temporary constructions and structures + Practical philosophy"
 Lecture at The Aarhus School of Architecture, Aarhus, DK
. 2010

"Creativity as engine for grass root growth"
 Keynote speaker at the Powwow Conference, Museum for Communications, Den Haag, NL
, 2010

"Collaborative networking" 
Presentation at the Social Innovation 2.0 Unconference, Øresund Entrepreneurship in cooperation with Københavns Projekt Hus and Center for Social Entrepreneurship, Copenhagen, DK, 2010

"Radical Design"
 Presentation for the faculty of Research and Innovation, Kolding School of Design, Kolding, DK, 2010

"Design at Eye-level"
 Lecture, Hang Loose Crypt, Nørre-Snede Elementary School, Nørre-Snede, DK, 2009

"No More Models"
 Lecture at The Scandinavian Design College, Randers, DK, 2009

"The Role of the Arts"
 Lecture at the Aarhus Kunstbygning, Aarhus, DK, 2009

"City & Life" 
Lecture and workshop at the Copenhagen Institute for Future Studies, København, DK, 2009

"Public Space"
 Lecture at the Metropolis laboratory, København, DK, 2008